Back to all posts
Posted on
Kindergarten at Our Lady of the Angels - Registration Opens February 1, 2021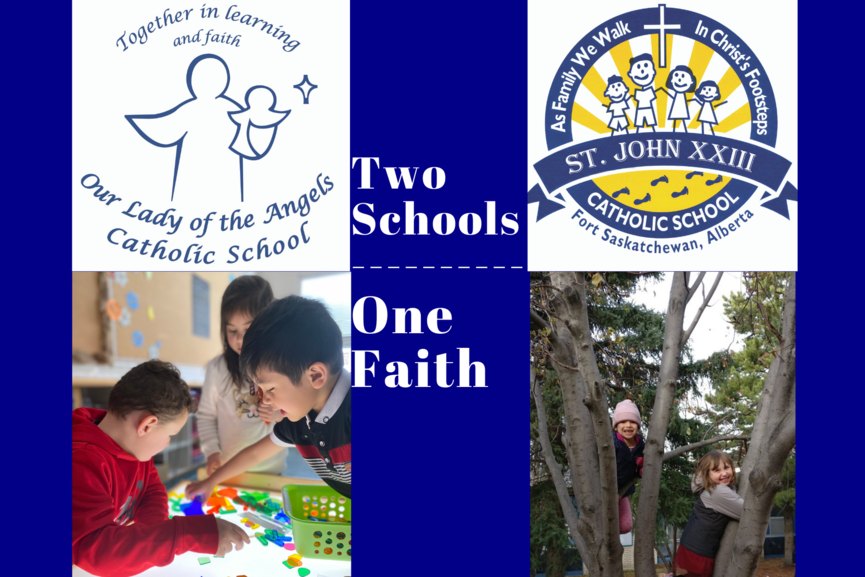 Independence, initiative, decision making, creativity, the ability to learn, relationships and feelings of self-worth - all have their beginnings in early childhood. We believe that each child is unique and, together with parents as our partners, we build upon children's natural curiosity and spontaneity, encouraging and supporting them as they take their first step into school. 
Eligibility Starting Date for Kindergarten for the 2021-2022 school year:
To register for Kindergarten in the 2021-2022 school year, your child must be five years old on or before December 31, 2021.
Elk Island Catholic Schools has two K-4 elementary schools that serve all of Fort Saskatchewan and the surrounding area depending on where you live. For information on boundaries, go to eics.ab.ca and click on Student Registration/Find My School.
Click here to go to the Our Lady of the Angels Boundary Map: Once there, click on the search icon at the top right-hand corner and put in your home address. The map will zoom into the name of your designated school. 
Each school offers an inviting learning environment, providing the 21st century, quality Catholic education for students in Pre-Kindergarten to Grade 4.
Amazing staff and school communities

Grade 4 Leadership Programs

Treehouse Before and After school care and A Fairy Tale Beginning

Preschool-Both Privately owned and operated

K-4 Flexible Pathways and Early Intervention-PUF Pathways available