Back to all posts
Posted on:
OLA School Coucil Poinsettia Fundraiser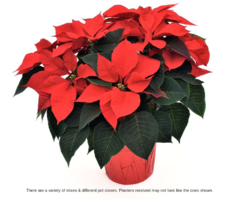 Our Lady of the Angels School Council 
3rd Annual Poinsettia Sale
2020
Nothing symbolizes Christmas like a beautiful Poinsettia, Christmas planter, or wreath in your home, office, or as a gift. We are excited to offer the usual options - plus new ones!
OPTIONS:
6.5" pot poinsettias in red, pink or white Approximate plant height: 14-16" & width: 12-16"  $15
Holiday tropical planters Containers vary. Approximate plant height: 10-12" by 4-8" It includes four different tropical plants as well as a novelty pick or pinecone $35
Hanging greenery 28-31" tall and 4-8" wide $35
Wreaths Approx. 22" diameter $35
Outdoor greenery arrangement 30-36" & width: 16-20" $45
Ordering and payment:
To follow all Covid protocols and limit the handling of returned paper forms and money, we have set up ordering and payment through a secure fundraising website:
www.ladyangels.growingsmilesfundraising.com
If absolutely necessary, cash can be sent to the office with your child. If paying by cash please include the name on the order, and the total cost on a piece of paper with the cash so we can enter the payment on the website.
Cash payment due:  Tuesday, November 17th (to allow time to process and input.)
Online payment due:  Wednesday, November 18th.
Pick up Thursday, December 3rd
Pick up will be Thursday, December 3rd at the doors directly to the right of the main doors (gym entrance).  We are using these doors to avoid interaction with the students to ensure their safety.
Time slots of 10 minutes have been set up on the website to select from when you place your order.
When you arrive if there are other people at the door please keep your distance until they have left.
Please remember the plants are vulnerable to cold temperatures and will require water so they must be picked up on time.  If you cannot make it please arrange for someone else to pick up for you.
Funds raised will go towards our Library and Literacy budget, which includes new books and supplies for the library, Mathletics licensing fees, and more.
As usual, we ask that you share this with your friends and family to help us reach our goal. Buttons on the ordering website make sharing via FB, Twitter, Instagram, Pinterest or email easy!
For any questions or concerns please email samledrew1@gmail.com
We thank you for your continued support and God's Blessings this holiday season.
OLA School Council