Back to all posts
Posted on
2023-2024 School Year Calendars Released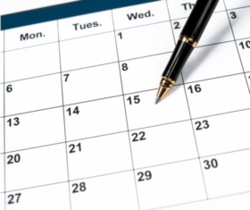 The 2023-2024 school year calendars have been approved by the EICS Board of Trustees and are now available for viewing.
Each year, the process for designing school calendars involves an in-depth examination to ensure compliance with required instructional hours and professional development days, as well as to coordinate schedules in communities where other school bus transit providers are used (Fort Saskatchewan, Vegreville, and Camrose). 
Parent councils and school staff are also consulted for their input prior to the calendars being finalized.
Here are some of the notable dates and breaks for our community:
Fort Saskatchewan
First day of school: Thursday, Aug. 31, 2023
Fall break: Week of Monday, Nov. 6, 2023
Christmas break: Monday, Dec. 25, 2023 - Friday, Jan. 5, 2024
Spring break: Week of Monday, March 25, 2024
Victoria Day weekend: Thursday, May 16, 2024 - Monday, May 20, 2024
Last day of school: Wednesday, June 26, 2024
In addition, registration for the upcoming school year is open. Additional details and and links to begin registration are available through the below link.