Library Learning Commons
Scholastic Book Fair
November 1 - 5, 2021
Our Scholastic Virtual Book Fair is OPEN!
The Scholastic Book Fair is back at OLA School!  The fair will be open November 1st & 4th in the school library.  Students are visiting the Book Fair during class time this week to discover and explore all the new titles - hundreds of books, carefully chosen to delight and engage kids of all reading levels.
Parents and grandparents are invited to shop online at our Virtual Book Fair anytime until November 5, 2021.  All the books included in the school fair are available via the online portal – great selections that will enhance your home library and inspire your young readers!  The online fair is open around the clock until November 5th so parents may shop when it is convenient for them.  There are no shipping fees this year; online orders will be sent directly to our school.
Traditionally during our Book Fair we have dedicated a space to our Classroom Wish Lists where families could select books to share with their child's classroom (sometimes these books were wrapped and used as a teacher Christmas gift). If this is something your family has enjoyed in the past you are welcome to make a selection on their behalf this year.
Posters ($5), Bookmarks & Pencils (50¢), and Pens, Highlighters & Erasers (various prices from 50¢ - $2.50) are not available online.  Families wishing to purchase these items may send money to school with their child.  The fair will be available for students to shop on Thursday, November 4th - please send a short note with your child indicating that they have permission to make a purchase from the fair.
Should you have any questions about the book selections, or the fair, please do not hesitate to contact Mrs. Buban, she is happy to help.  You can reach her by email at may-leeb@eics.ab.ca.
Our OLA Scholastic Book Fair has been fundamental in growing and maintaining our library collection in the past. We thank you for believing in books and the importance reading has on your child's future.  Your support is sincerely appreciated.
Blessings,
Mrs. Buban
Librarian
Our Lady of the Angels Catholic School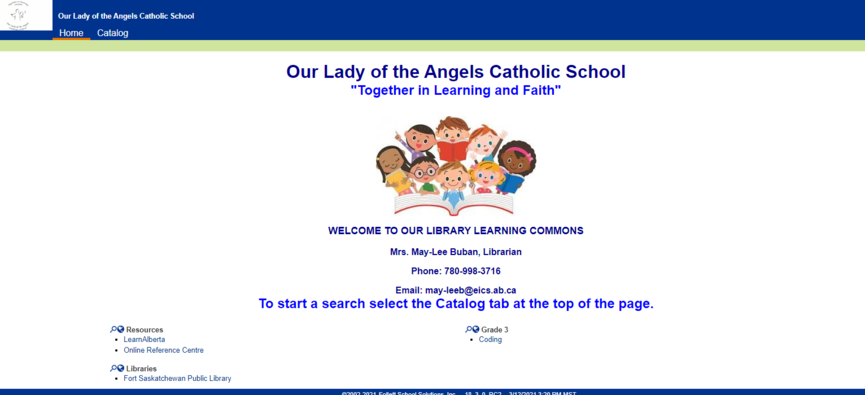 Welcome to the OLA Digital Library!
Here is the link to check our library catalogue!